WELCOME TO THE BIGGEST DROPZONE IN NOTHERN EUROPE!
In Gryttjom the joy of jumping and skills grow in a great community. Learn from the best coaches and get new friends both in the sky as well as around the bonfire.
We are a great and resourceful team running the largest skydiving club in Sweden. Between May and October every year, we do more than 25,000 jumps (of which 2,000 are tandem jumps) and about 60 new students are trained.
Here, non-profit work goes hand in hand with professionally planned and managed activities. We host the world's best jumpers to share their knowledge which enables you to develop your skills to the maximum in an awesome community.
Throughout the season, we arrange camps for all levels, where rookies can become experienced and the already experienced can aim for the stars. Regardless which club or country you come from, you are welcome to join. We offer canopy piloting, free flying, FS, rookie camps and friendly talks around the bonfire.
Faster, harder, Gryttjom!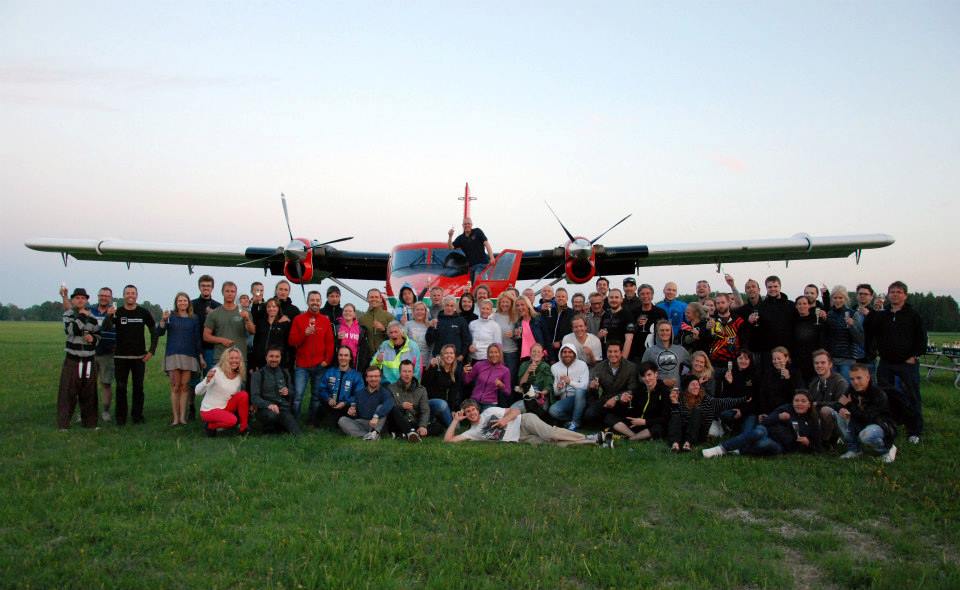 Visit the manifest with your licence and gear, give us your contact details, stand on the scale with your gear, make sure to have money on your jump account and BAM - you are all set to skydive in Gryttjom. It is very simple, but a tip is to check in in the morning or evening; in the middle of the day, the manifest may be busy with the daily routines and it can take a while to be able to help you.
We weigh all jumpers every season with the entire gear, so bring your rig and all equipment you use skydiving when checking in. Also, make sure to get properly briefed of the local routines in Gryttjom, either by the jump leader or an instructor. Read more on "New DZ - New routines".
In Gryttjom there are two bunk houses. Övre, where there are private rooms rented by members and Nedre where both members and guests can spend the night. In Nedre there are 16 rooms, each room with four beds. The rooms are equipped with beds and mattresses. You need to bring your own sheets, pillow and sleeping bag. You can only reserve a place if you are a student on a course or are a visiting coach, judge or similar. It is first come, first served for everyone else. When you leave your bedroom make sure it is a little nicer than when you arrived!
Skydive Stockholm owns a DHC-6-300 Twin Otter, named Erik-Erik. She has the capacity to bring 24 jumpers to 4000 meters in about 13 minutes.
You need to have money on your jump account in order to be able to manifest yourself to a lift. You can refill money via "insidan". Din insättning dyker upp på hoppkontot efter ett par minuter.
The day after you have registered yourself in Gryttjom, you will automatically get an account on Insidan. Here you can deposit money, check your jump account, logbook and watch Skyview (our page for upcoming lifts and calls).
It is not always easy to arrive to a new dropzone with its new routines and rules, especially not if you are new to the sport. Most routines are quite straightforward and if you give yourself some time to catch on how it works in Gryttjom, you will be fine. We have maps where you can get a good picture of where you will jump, are under canopy and how to land. Erik-Erik takes up to 24 jumpers and it can be experienced as quite crowded in the air space when you fly your canopy.
Make sure to get a proper overview of the landing area and have a good plan for your free fall and canopy flight. NB! The swoop pond may only be used if you do a hop 'n pop.
Forgot your rig at home? Or maybe you have not had time to get one yet. In any case, there are rigs to rent. We have six rental rigs, sizes from 168 to 230, which are handled in the manifest. These are picked up and returned unpacked.
In some cases you may also rent a student rig, but if there are students at the DZ, they of course have priority. In the event of a cutaway, you are liable for repackaging and any parts that have not been found.
Rental rigs cannot be booked, it is first come, first served. But often it is possible to talk to each other and share a rig during the day.
We have T-shirts with the club's logo for sale, which are handled via the manifest. In the common room there is a collection of used overalls, helmets and other accessories that members resell. 
You can either pack your canopy in the packing room indoors, or pull out a tarpaulin on one of the lawns in front of the club house. The main focus of the club's packers are to assist tandem but sometimes they have spare time to also include other jumpers. There are usually more packers on site, so check in the tandem tent who they are, and tell them well in advance if you want help.
Gryttjom has a well-equipped rig loft and usually several riggers on site. However, there is no rigger "on duty" so you need to ask around among those who are on site if you need help with something. If you are a visiting rigger and need to use the premises, contact a local rigger about the routines.
DO YOU NEED TO DO EDUCATION JUMPS?
Talk to a jump leader or manifest in the morning to find out which instructors are on site. Of course, you need to show your logbook in order for the instructors to see how far you have come. You pay for the jumps according to the club's price list for AFF or jump master jumps.
If you come in a group from another club with your own instructors, that is also fine. However, then the set-up looks a little different and in these cases your instructors should already have arranged this with SF.
Since 2013, there has been a Swoop pond in Gryttjom. It is of approved competition size and several competitions have already taken place, including the Nordic Championships and several open Swedish championships. The pond is 80 m long, 25 m wide and 1 m deep. It also has soft padded edges as protection. The pond is set for accuracy, distance and speed. Apart from the accuracy gravel at one end, the pond is surrounded by a grass area. There are no obstacles if there is a need of cancelling the swoop. The pond may only be swooped from hop 'n pops.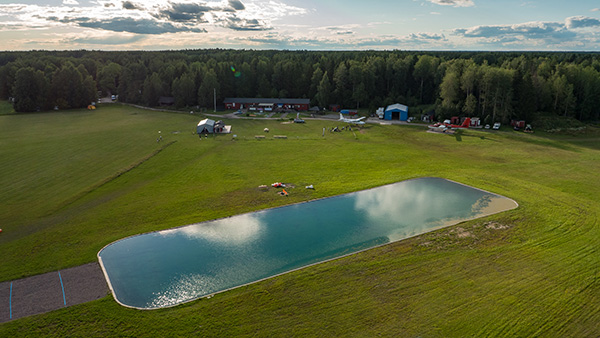 If you are new to Gryttjom and cannot show that you have experience swooping ponds, a briefing will be needed with one of Gryttjom's local swoopers.
We encourage all our members to compete and train. With a large aircraft and jumping every day during the high season, there are good opportunities for those that want to train. We offer hop 'n pops for swoopers and accuracy jumpers. And, on weekdays, back-to-backs for those teams that want to jump a lot. Gryttjom is available for FS teams, freeflyers, CF teams, swoopers and everything in between. There is a mock-up, rolling boards, rolling surfaces inside and outdoors, a briefing station and, subject to availability, team rooms are also offered.
In addition to our own teams/competing jumpers, we continuously host teams/jumpers from other Swedish clubs and other countries who wish to train in Gryttjom. As a guest from another club/country, you can apply for a special team deal that gives a discount if you want to jump a lot. Contact info@skydive.se if you want to know more or are ready to plan your training in Gryttjom. The earlier you decide, the more likely it is that we can offer the specific training week of your choice.
In Gryttjom there are jumpers with a lot of experience in all disciplines. However, we have no employed or contracted coaches. If you want coaching, look at the different camps that are organized or check on site in Gryttjom who may be able to assist.
Borrowing a cabin or caravan from someone in Gryttjom is not administrated by the club, but it is not uncommon for members to rent or lend their accommodation. If you bring your own caravan, there is an area close to the old flying club at the north end of the runway. Access to electricity is not something we can guarantee for visiting caravans.
Please check where it is suitable to park your caravan. Setting up tents is also suitable around the hangar towards the north end of the runway. Keep in mind, that the airplane taxi past the area, so make sure your tent is well strapped.
Are you not a skydiver with Swedish license? Please read this waiver before you arrive.
Finally, do not forget to check if you are on the cleaning list towards the end of the day. We want a nice drop zone tomorrow as well!